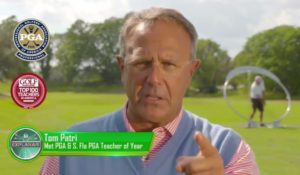 We want everyone to play the best golf they can, so we developed the Explanar – a patented golf training aid to simplify the way to learn, train and improve your optimum golf swing. The golf swing is one of the most complex bio-mechanical movement performed in any sport and most people are only ever taught verbally.
The Explanar is a mechanical aid that helps users learn by feeling not thinking – like training wheels on a bicycle, providing support and feedback that you can feel. Golf coaches find it easier to teach this complex movement with an Explanar, improving the way students learn and play and it is used by many of the World's top golf professionals and coaches. Having an Explanar at home and using it for a few minutes a day enables users to practice and groove a perfect swing and create a muscle memory that is automatically recalled by your sub-conscious when you play. Using Explanar for 5 minutes a day is like hitting 150 balls at a range – That's over 1000 practice swings a week – without the time and expense of travelling to a practice ground. You can imagine the effect this level of practice alone would have on your game, but imagine the effect practicing your perfect "on plane" swing every time you swing.
Explanar improves the distance and accuracy of your shots by teaching a more consistent swing, and is suitable for golfers of all abilities. Explanar has already helped thousands of golfers improve their swing and the way they play golf.
The Explanar was invented by PGA Master Professional Luther Blacklock, who used his own experiences as a top golf coach to create a training aid that helps perfect your golf swing. Thanks for visiting our website. If you'd like some help, please email info@explanar.com If you'd like to improve your golf but you're not ready to buy an Explanar, why not just check out our FREE lessons with tips and advice on how to play golf better.
Watch this informational video: