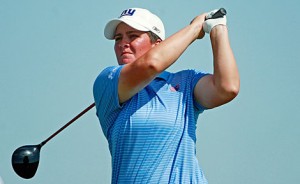 Meaghan Francella, LPGA
Meaghan Francella began working with Tom Patri as a new golfer at age 12. The relationship grew as did Meaghan's many playing accomplishments. They worked together starting with local Jr. Golf events, progressed to the state, regional, then national level. Meaghan went on to a wonderful collegiate career at The University of North Carolina where she won both the Atlantic Coast Conference Individual Championship as well as the NCAA East Regional Championship. First Team All-American honors followed.
"Tom is the only person I trust with my golf swing. His knowledge of the golf swing and game is the best I've ever seen. I'm proud to call him my coach."
Meaghan graduated from UNC and went on to qualify for the LPGA via the Futures Tour money list in 2006. In her final event that season battling for her LPGA Tour card Tom was summoned by Meaghan to caddie for her in the final event. "Those three rounds were perhaps the most fun I ever had on a golf course," Patri said. "To watch her perform under immense pressure and succeed in getting her card was a thrill for me," Patri went on to say.
What followed was a story book rookie campaign in 2007 in which Francella won her first LPGA Tour event defeating perhaps the greatest female player of all time Annika Sorenstam in a 4 hole playoff !! After that season the duo of Patri and Francella decided to take some time off. This year in March of 2013 they reunited and began working together again." Meaghan has had a few lean seasons and it is my responsibility to try my very best to right the ship". Patri feels strongly that Meaghan has many good years left in her and she will return to the winners circle.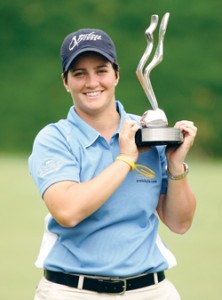 1998 New York State Junior Champion

1999 New York State Junior Champion

2001 Conference USA Freshman of the Year

2001 Conference USA Champion

2002 Dixie Amateur Champion

2003 Atlantic Coast Conference Champion

2004 NCAA East Regional Champion

2004 First Team All American

2006 Lakeland Duramed Futures Classic Champion

2007 LPGA Mastercard Classic Champion

2010 HSBC Brazil Cup Champion
---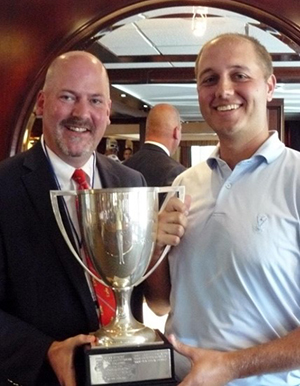 Big Time congrats to one of my favorite students. Brad Rock Jr. has been knocking on victory's door for several seasons now. Well recently the flood gates opened and Brad stepped right on through! Way to go Brad. 
LIGA Tournament Director John McGrath and 2015 Long Island Mid-Amateur Champion Bradley Rock Jr. (PICTURED) hold the permanent Louis Winkelman trophy.
Bradley Rock Jr. of Wheatley Hills Golf Club shot 2-under-par 70 at the Mill River Club on Wednesday, September 16 to go with his previous day's 69 to win the 2015 Long Island Mid-Amateur Championship by 3 strokes over Jonathan Jeter of the Nassau Players Club, who also shot 70 in his second round. A third 70 from Bryan Pendrick of the home club was good enough to get him third place at even par 144. Rock, Jeter and Pendrick had the only sub-par rounds of the day. For complete results, click here.
This was Rock's second consecutive win in a "Long Island major;" he won the 2015 Michael Hebron Amateur Championship on the Black Course at Bethpage State Park in August, after he survived a six-hole, three-person playoff.