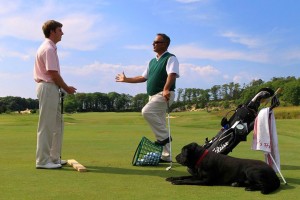 Tom has been one of the most decorated teachers and coaches in the golf world over the last 30 years. He has been recognized by Golf Magazine as one of the Top 100 Teachers in America every year since 2000, and he is one of only two PGA Professionals to have been named Teacher of the Year in both the Metropolitan and South Florida PGA Sections, which are annually recognized as two of the premier teaching sections in the country. Tom has had great success with students of all skill levels, especially his junior players who have won over 125 local, regional, and national events..
TP GOLF SCHOOLS is proud to announce that this summer Tom Patri will be available for instruction at the fabulous Colonial Springs Golf Club in Farmingdale. Tom has garnered some of the most prestigious teaching awards in the country. He has been a leading voice in the PGA teaching and coaching world for over 30 years. His students have won at every level from junior golf to professional golf. If you are serious about your golf journey and improving don't miss this great opportunity. Tom Patri is available for golf lessons in Long Island 1 week a month at Colonial Springs (June – Sept.).
Tom is available by appointment only for his Long Island golf lessons. Tom teaches and coaches all ages and skill levels. His development of junior players is well documented. His juniors have won over 125 local, regional, and national events. Tom gives both private instruction and also hosts half and full day golf schools. These schools can be customized to fit the needs and wishes of the students. Every school is taught by Tom himself. The maximum for each school, is three students keeping each school intimate.
Why not invest in your game improvement today with one of golf's finest authorities on game improvement. Email Tom TODAY: tpatri@mindspring.com
Full day golf school includes lunch and 9 holes with Tom Patri.
All schools require a 50% non-refundable deposit.
The balance is due on day 1 of all schools. No exceptions.
There will no refunds or exchanges for services or credit given of any type and all online services must be used within one year of purchase date.
SESSION DATES:
Ask about Four Session discounts!
Dates Subject to change.*
| | | |
| --- | --- | --- |
| Session #1 | June | 7th - 12th |
| Session #2 | July | 12th - 17th |
| Session #3 | August | 2nd - 7th |
| Session #4 | Sept. | 7th - 18th |
| Session #5 | Oct. | TBD |
RATES AND PROGRAMS
DOP = Date of Purchase, NR = Non-refundable, PP = Per Person
PRODUCT

RATE

SAVINGS

DEPOSIT

EXPIRES

Single Hour (Adult)

$250

—

—

—

3-Hour Pack

$600

$150

—

1 year from DOP

6-Hour Pack

$1,200

$300

—

1 year from DOP

Half Day School

$750 (1 person)


$900 (2 people)
$1,050 (3 people)
—


$450 (PP)


$350 (PP)
50% (NR)


50% (NR)


50% (NR)

1 year from DOP

Full Day School

$1,500 (1 person)
$2,000 (2 people)


$2,500 (3 people)

—


$1,000 (PP)


$833 (PP)

50% (NR)


50% (NR)
50% (NR)

1 year from DOP
ONLY IF YOU WANT TO PLAY YOUR VERY BEST!
Tom Patri recommends Golfing Magazine Website. With over 140 golf courses on Long Island, Golfing Magazine has the latest and greatest golf info you could find anywhere. Check out announcements, press releases, and features right here. Golfing Magazine is the nation's leading regional golf magazine. Click here to read more!