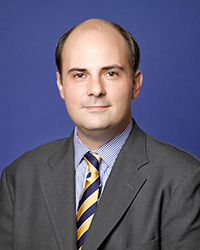 Long ago in a land far away, I had a youngster show up on my lesson tee during my Westchester CC days. In fact it was the last day of my teaching season that year (mid 90's). He was not a wealthy country club kid, but a middle class public course kid from Staten Island, NY. Gary Barton was a polite, strong, bright youngster with a big time desire to excel. I have to expand on the polite, bright part…. If you were to meet Brenda and Gary Sr. it would be clear why Gary was what he was and is who he is . This world needs more Brenda's and Gary Sr.'s!!
Let me get back on track. That day in late October Gary showed up it was freezing cold. It was my last lesson, on my last day of a long season. Next stop Florida! I just wanted to get going. However as the lesson started this young man stopped me in my tracks.
You see he wasn't particularly gifted although reasonably athletic. He was a broad wide body. more of a football body than for golf. He was raw undeveloped …. I asked young Gary what his goal in golf was. I anticipated this young tike to tell me he'd like to break 90 … His instant reply was "Coach, I'd like to play college golf "! His passion and depth captured me instantly. First of all college golf for Gary was 4+ years and gobs of hard work down the road if at all. Honestly although I loved the passion and exuberance of the student, if you had asked me after that first session what I thought I would have said he was a long shot at best.
Well 20+ years later let me bring you up to speed. Gary went on to play wonderful Jr golf. He went to The College of William and Mary. There he was a two year Captain of the golf team. Gary set and still holds several school records.
In his last event his senior year he won The Virginia Cavalier Classic in a playoff. The field was loaded with powerful ACC teams. William and Mary was projected to finish last. Gary's individual win propelled William and Mary to perhaps its finest golf hour to date, a major team win! I remember getting a call from Sr. & Jr. still at the event. They were both crying. I never told them but when we finally hung up I cried my eyes out as well…. Tears of joy!
Gary graduated with upwards of a 3.6 GPA. He has since earned Masters in Business Administration and Information Technology from George Washington University. He was recently made a partner at the prestigious Cotton & Company.
If you can't tell I'm extremely proud of this gentlemen. However his finest accomplishments have not been on the golf course, they have not been in the classroom or in a board room. Gary married Jeanne. Mrs. Barton played college golf at a little school in the Midwest called Notre Dame. She is every bit the winner Gary is! Jeanne's family is as wonderful as Gary's.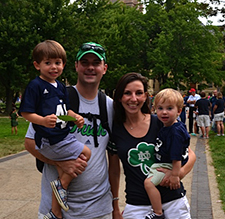 They have two young boys. Gary III and James. One of my greatest teaching wishes is that I live long enough to give each of these two knuckleheads a golf lesson. I would like it to be when they're old enough that I can share with them how damn lucky they are to have been born into a family of grandparents and parents as awesome as they have surrounding them.
I have coached winners on several major professional tours. I'm very proud of many of my accomplishments in golf. However none make me more proud then a youngster from Staten Island, NY who came to me on a cold day in late October many moons ago. He has become a father, a husband, and a business leader beyond compare. I'm proud this youngster who has grown into a wonderful man is still today one of my dear friends.
As a professional if in your long journey in this wonderful game if you are blessed to have one maybe two Gary Barton's in your stable your time has been so very worthwhile. Thank you Gary Barton. You have taught me as many lessons as I taught you…..