---
---
---
---
---
---
---
---
---
Tom had a wonderful junior career with 15 junior titles crowned by his 1976 Met (MGA) Junior title. The Met Junior is the oldest junior event in the country. His college record was equally successful with 5 wins, twice named 1st Team All-American while attending Florida Southern College. Tom finished his collegiate campaign with a victory at the 1981 NCAA II NATIONAL CHAMPIONSHIP.
As a teacher and a coach the awards continued to find Tom. In 1998 Tom was named Met PGA TEACHER OF THE YEAR. In 2000 Tom was added to Golf Magazines Top 100 Teachers in America list. In both 2004 and 2006 his peers recognized him as The Southwest Florida PGA TEACHER OF THE YEAR. Finally, Tom was awarded The South Florida PGA TEACHER OF THE YEAR AWARD! Only two teachers have won Teacher of the Year in both The Met and South Florida sections. These two sections are commonly recognized as the two strongest collections of teaching and coaching talents in the country.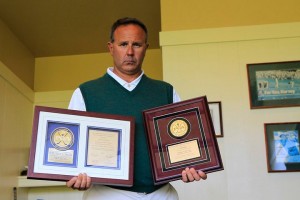 Tom likes nothing more than to share his golf knowledge with students who share both his passion and love for this great game regardless of their skill level.
---